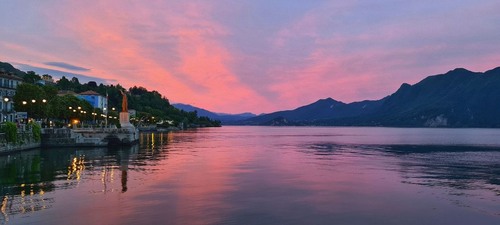 Monumento ai Caduti, in Intra Italy, is an iconic monument honoring the men and women who died while serving their country during World War I. The memorial was built in the late 1920s to commemorate those who lost their lives in defense of their homeland. The largest component of the monument is a massive, three-meter tall figure of a young Italian soldier. Although he is dressed in typical clothing from the period, his body is twisted and mangled as a symbol of the horrors of war and the sacrifices of those who died fighting for their country. Around the soldier there are four other figures representing the four branches of the military that lost members during the war. The monument is supported by a large, Stone base and flanked by two pairs of stone columns. With its imposing presence and solemnity, the Monumento ai Caduti is a must-see for visitors to Intra.
🌦 Weather information
Get weather information, and much more, from the app. Download it for free!
🚕 How to get there?
Get routes information (by car, walking, public transport, etc), and much more, from the app. Download it for free!