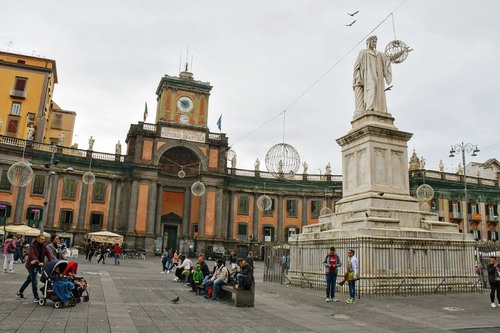 The Monument of Dante Alighieri, located in the picturesque city of Napoli, Italy, is a beautiful and highly significant landmark. It stands in the main square of the city, since 1925, as a tribute to Italian poet, Dante Alighieri and his most famous poem, La Divina Commedia (The Divine Comedy). The breathtakingly detailed and imposing bronze sculpture was designed by Italian sculptor Tito Silvestri, and it shows Dante looking towards the sky and holding a book containing one of his poems. This monument not only pays tribute to a major figure of Italian culture, but also stands in the midst of a vibrant square, surrounded by picturesque buildings and lively locals, making it a great spot to take photos. Get lost in the history and culture of Napoli as you explore this great monument. Every detail of the sculpture can be admired and the setting provides an uplifting atmosphere.
🏨 Hostels
🌦 Weather information
Get weather information, and much more, from the app. Download it for free!
🚕 How to get there?
Get routes information (by car, walking, public transport, etc), and much more, from the app. Download it for free!