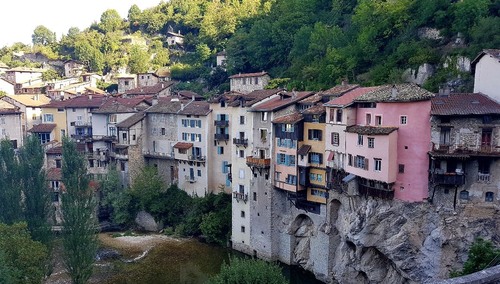 The Les maisons suspendues de Pont-en-Royans (Suspended Houses of Pont-en-Royans) is a string of half-timbered houses hanging on the steep side of the Bourne river. It dates back to the 16th century when the local inhabitants had to face the flooding of their lands. Built like a terrace, the eight houses stretch over the steep rocks offering stunning views of the valley. Each house has retained its original and unique character. A visit to this part of France is not complete without admiring this wonderful site deeply rooted in local folklore. Take a walk in the village and discover the decorated gable and bell towers, the old fountains, bridges and cross inscribed. Explore the old mills and visit the museum at the entrance to the hanging houses and uncover the secrets of these mysterious dwellings.
🌦 Weather information
Get weather information, and much more, from the app. Download it for free!
🚕 How to get there?
Get routes information (by car, walking, public transport, etc), and much more, from the app. Download it for free!