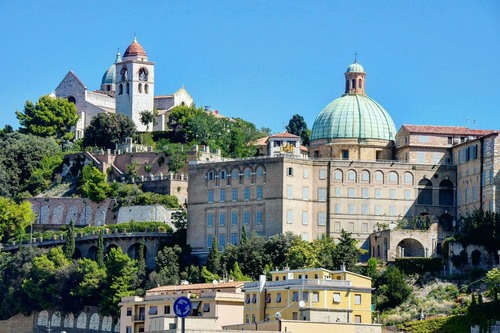 Chiesa dei SS. Pellegrino e Teresa - Duomo, known locally as the Ancona Cathedral, is a stunning example of medieval Romanesque architecture. Located in Ancona, Italy, the imposing stone building dates back to the 11th century and is crowned by two angles holding the two pillars of Ancona. Inside, the beautiful decorations give it a majestic atmosphere. There are four marble altars in the chapel, as well as a painting dedicated to the patron saint of Ancona, St. Bartholomew. The stained glass windows and religious artifacts, many of them gifted by local merchants, create a true visual feast. The cathedral is an important pilgrimage site, and many people come to pray and meditate in this special place. It is also a popular tourist spot, with visitors coming to marvel at its grandeur and take photographs.
🏨 Hostels
🌦 Weather information
Get weather information, and much more, from the app. Download it for free!
🚕 How to get there?
Get routes information (by car, walking, public transport, etc), and much more, from the app. Download it for free!