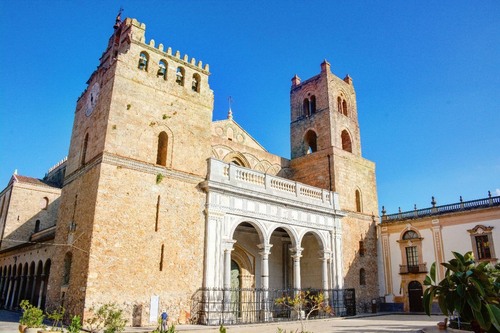 The Cathedral of Monreale is a masterpiece of Arabic-Norman architecture and one of the most beautiful and mysterious religious buildings in Italy. Built in 1174 by William II of Sicily, it is the largest building in Monreale. The interior is filled with an impressive array of mosaics, depicting scenes from the Bible, which are lavishly decorated with gold. The mosaics are breathtaking, and the overall effect is quite spiritual. Outside, the many small chapels and courtyards are encircled by an expansive garden with an olive tree grove. Visitors can climb the many steps up to the bell tower and get a unique perspective of the city. For an interesting contrast, the nearby Cloister of Santa Maria della Catena provides a look into a serene, pastoral setting that so peacfully coexists with the grandeur of the cathedral. It's a sight to behold.
🌦 Weather information
Get weather information, and much more, from the app. Download it for free!
🚕 How to get there?
Get routes information (by car, walking, public transport, etc), and much more, from the app. Download it for free!