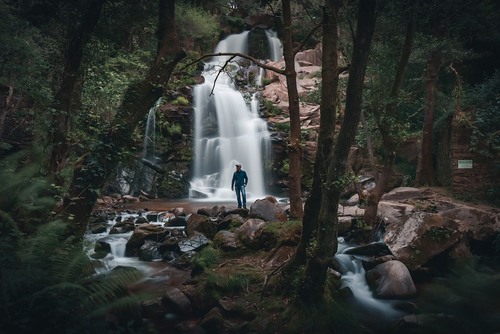 Cascata da Cabreia is a mesmerizing three-tiered waterfall in lush Aveiro, Portugal. The waterfall cascades down from a small ravine into a deep canyon. From the top, the fall looks like a ribbon of water cascading in between large rocks and over fossils. The water then gathers in a magnificent pool below. The sun rays reflecting off the tranquil still waters create a picturesque scene that captivates the viewer. Nature trails and steep steps take visitors to the viewpoint, where they can take in the sight of this powerful ancient force of nature. The waterfalls are located in the heart of the Aveiro region, and birdwatchers can spot a variety of feathered friends here. It is a great place to escape, relax and admire the natural beauty of Portugal.
🌦 Weather information
Get weather information, and much more, from the app. Download it for free!
🚕 How to get there?
Get routes information (by car, walking, public transport, etc), and much more, from the app. Download it for free!