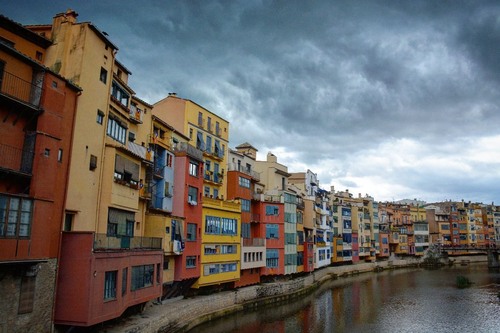 Casas Colomines de Girona and Pont de Sant Agustí are two of the oldest architectural constructions in Girona, Spain. Dating back to the 16th century, Casas Colomines are three traditional Catalan houses that were part of a larger residential complex of 42 houses and two churches. Built on the hillside of the Onyar River, the historic homes still feature their characteristic pointed roofs, ornate windows, and colorful facades.

The Pont de Sant Agustí is a bridge that connects the Casas Colomines complex with the ancient walled city Girona. Built in 1736, it also acts as a viewpoint, from which tourists can admire the striking architecture of the area and the Onyar's calm waters. Both the bridge and the Casas Colomines are interesting grounds for photographing and also a great destination for tourists and photographers who want to explore Girona's unique history and culture.
🌦 Weather information
Get weather information, and much more, from the app. Download it for free!
🚕 How to get there?
Get routes information (by car, walking, public transport, etc), and much more, from the app. Download it for free!