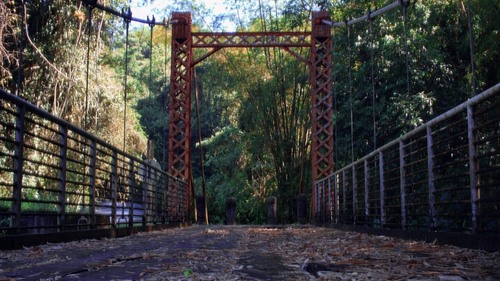 The Blanchisseuse Spring Bridge is locatedin the small village of Blanchisseuse on the Northern Coast of the Caribbean Island of Trinidad and Tobago. This bridge is a mesmerizing wonder of nature, offering spectacular views of the lush rainforest and the crystal turquoise water of the Dragon Mouths of Blanchisseuse and Matelot Rivers. You can also catch a glimpse of the fishing boats, kayaks and catamarans in this Arima Valley. The bridge is made of a steel arch, surrounded by several wooden slats and supported by large stones on either side of the rivers. There are several photo spots around the bridge, providing the perfect backdrop for any photo enthusiast. For a special touch, visitors can climb up the spiral staircase that leads to the top of the bridge and take a closer look at the lush greenery, cascading sunset, and vivid wildlife of the area. With its pristine beauty and romantic charm, this breathtaking scene will capture the heart of any traveller.
🏨 Hostels
🌦 Weather information
Get weather information, and much more, from the app. Download it for free!
🚕 How to get there?
Get routes information (by car, walking, public transport, etc), and much more, from the app. Download it for free!