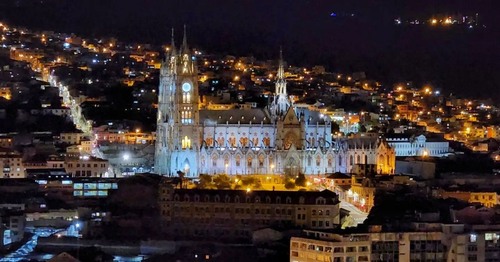 The Basílica del Voto Nacional in Quito, Ecuador is an incredible architectural feat of Quito's rich history. It was designed in the Neo-Gothic style and took over 80 years to build. It stands at 109 meters tall, with 2 towers and 4 spires at each corner. Inside is a breathtaking altar and an impressive collection of stained glass windows. It is the largest Neo-Gothic basilica in America and one of the tallest anywhere in the world. Discover the intricate details of the Basilica and its surrounding gardens, a true tribute to Quito's extensive art and craftsmanship.

Café Mosaico is one of Quito's most famous coffee houses. It is renowned for its amazing coffee and friendly staff, who are always willing to help you find the coffee you crave. You can choose from a wide selection of coffees, from single-origin to blended varieties. Tastings are also available, and many of the blends have been carefully sourced from local farms. Café Mosaico also serves delicious food and drinks, including sandwiches and pastries. Enjoy a cup of coffee and take in the stunning views of Quito's colonial architecture.
🏨 Hostels
🌦 Weather information
Get weather information, and much more, from the app. Download it for free!
🚕 How to get there?
Get routes information (by car, walking, public transport, etc), and much more, from the app. Download it for free!