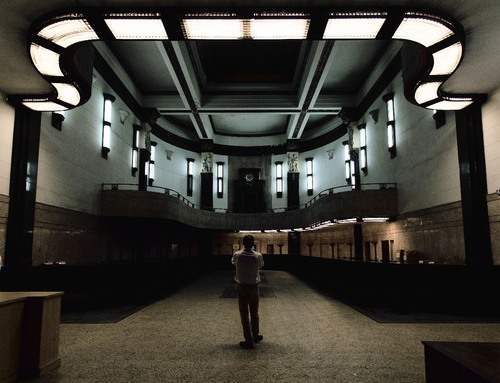 Banco de São Paulo is an historic building located in the heart of the Centro Histórico of São Paulo, Brazil. With its grand neoclassical façade and interior details, it is considered one of the most important architectural assets of the city. Built in the late 19th century, it was the first building to be constructed in the style known as Pombalino (in reference to the Marquis of Pombal). It was also the first modern bank in Brazil, hence its name. The building features two large halls: the Sala de Exposições (Exhibition Room) and the Sala das Sessões (Session Room). Both of these stunning interiors have been preserved and can be visited by appointment. The Sala de Exposições, which was the first Brazilian room dedicated to the appreciation of fine art, hosts a number of exhibits and activities throughout the year. The Sala das Sessões is adorned with many lush decorations, including wooden carvings, marble columns and a vaulted ceiling painted in fresco. The Banco de São Paulo also houses currency and coin collections, as well as an impressive library with books related to different aspects of art, finance and philosophy. Its basement holds the remains of a 17th century slave trade prison, which is usually has no public access.
🌦 Weather information
Get weather information, and much more, from the app. Download it for free!
🚕 How to get there?
Get routes information (by car, walking, public transport, etc), and much more, from the app. Download it for free!