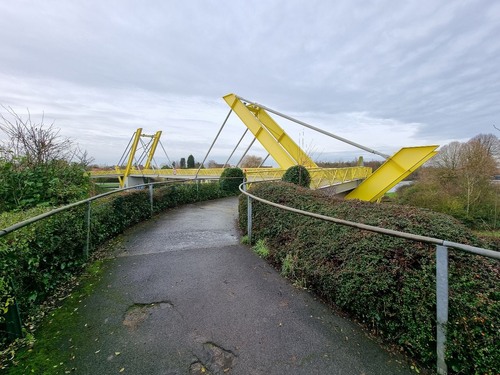 The Yellow Walking Bridge (passerelle Jaune) in Deûlémont, France, is an iconic symbol of the city. The yellow arch bridge spans both sections of the small river which passes through the city and offers great views of the old downtown area. The bridge is made of yellow-painted steel and stands out of the surrounding landscape, no matter what season visitors find themselves in. There are benches and pathways for relaxation, making it the perfect spot to take in the scenery. Visitors are encouraged to take a leisurely stroll through the city center, take in the views of the 19th century houses, cafés, and shops that can be found here. Though not the tallest bridge in Deûlémont, the Yellow Walking Bridge is the most photogenic and its elevated position in the center of town offers a stunning perspective.
🌦 Wetterinformationen
Erhalten Sie Wetterinformationen und vieles mehr von der App. Laden Sie es kostenlos herunter!
🚕 Wie man dorthin kommt?
Rufen Sie Routeninformationen (mit dem Auto, zu Fuß, mit öffentlichen Verkehrsmitteln usw.) und vieles mehr über die App ab. Laden Sie es kostenlos herunter!