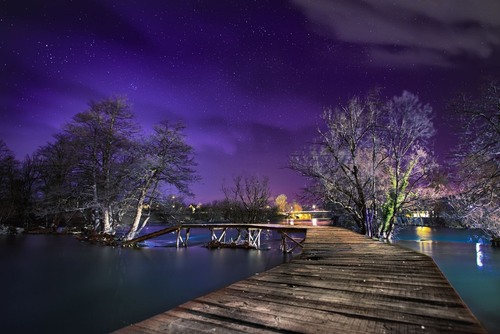 The stunning Wooden Bridge above the river in Bihać, Bosnia and Herzegovina is a must visit for any travel enthusiast. Built hundreds of years ago, this remarkable piece of engineering is a gorgeous example of traditional Balkan architecture. It not only connects two picturesque local villages, but also unites the two banks of the river with intricate, arched architecture and historic significance. This bridge remains a popular destination for walkers and cyclers, providing a breathtaking view of the river and beautiful rural landscape of the city. It's a great place to take a leisurely walk and admire its vintage charm or take a picnic and relax while silently taking in the spectacular surroundings.
🌦 Wetterinformationen
Erhalten Sie Wetterinformationen und vieles mehr von der App. Laden Sie es kostenlos herunter!
🚕 Wie man dorthin kommt?
Rufen Sie Routeninformationen (mit dem Auto, zu Fuß, mit öffentlichen Verkehrsmitteln usw.) und vieles mehr über die App ab. Laden Sie es kostenlos herunter!