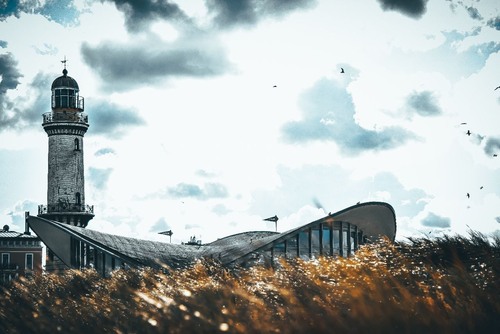 Warnemünde Lighthouse is located in the North Sea resort of Warnemünde in the city of Rostock in Germany. This red and white striped lighthouse stands proudly at the entrance to the Warnemünde harbor. It stands about 72 feet (22 meters) tall, and was built between 1898 and 1898. Its light can be seen up to 14.9 nautical miles away. It is a popular spot for sightseeing, and its adjacent beaches are a great place to relax and take in the sun. Near the lighthouse is an old fishing village which is now a popular tourist spot thanks to its restaurants, cafes and old-fashioned boutiques. It is also a great spot for whale-watching, as this area of the Baltic Sea is known for its whale population.
🌦 Wetterinformationen
Erhalten Sie Wetterinformationen und vieles mehr von der App. Laden Sie es kostenlos herunter!
🚕 Wie man dorthin kommt?
Rufen Sie Routeninformationen (mit dem Auto, zu Fuß, mit öffentlichen Verkehrsmitteln usw.) und vieles mehr über die App ab. Laden Sie es kostenlos herunter!