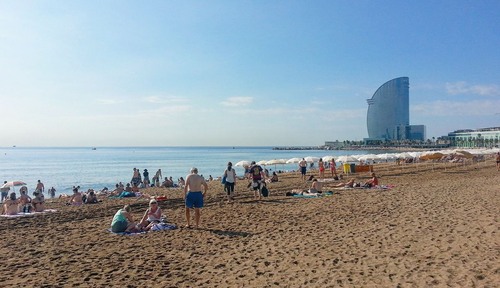 W Hotel Barcelona, situated on the iconic coastline of the Mediterranean Sea, is renowned for its luxurious accommodation and unparalleled service. Just steps away from the city centre, guests can take advantage of the hotel's incredible location right on the beach, affording visitors an opportunity to enjoy the hustle and bustle of the city and its many attractions, as well as an idyllic spot to just sit back, relax and listen to the soothing sound of the waves. Offering an array of world-class amenities, W Hotel Barcelona provides plenty of room and outdoor spaces in which to enjoy the views, along with a selection of the finest dining, spa services and entertainment. From the beachfront Wellness Deck, to the stunning 42nd-floor infinity pool, and the ultra-modern Spa Club, the W Hotel Barcelona is sure to please even the most discerning of travelers. Whether you decide to take a dip in the pool, work out in the well-equipped fitness centre, indulge in one of the many spa treatments, or simply relax with a cocktail at the beach, the W Hotel Barcelona is an ideal destination for an unforgettable stay.
🌦 Wetterinformationen
Erhalten Sie Wetterinformationen und vieles mehr von der App. Laden Sie es kostenlos herunter!
🚕 Wie man dorthin kommt?
Rufen Sie Routeninformationen (mit dem Auto, zu Fuß, mit öffentlichen Verkehrsmitteln usw.) und vieles mehr über die App ab. Laden Sie es kostenlos herunter!