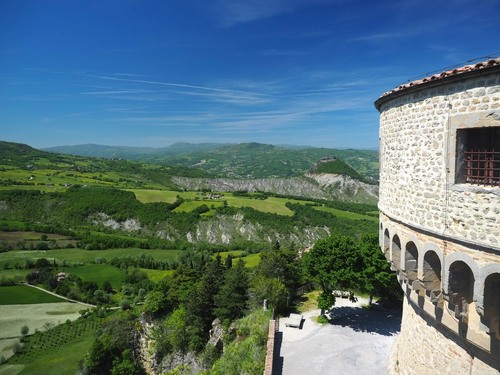 Be amazed by the extraordinary view at the top of Castle of San Leo! Located in the majestic Apennine Mountains of Italy, the castle is renowned for its spectacular views of the surrounding area. The terrain is rugged and mountainous, with lush green forests, deep ravines and canyons, and rocky, grassy plateaus. The castle provides the perfect vantage point from which to take in the beauty of the countryside, with towering cliffs and stunning views of the Adriatic Sea. Don't forget your camera! The castle is also the site of a small museum, exhibiting an eclectic collection of old artifacts, weaponry, and armor. Other activities at the castle include guided tours and a variety of events designed to highlight San Leo's centuries-old history. So whether you're looking for exceptional views, a fascinating museum, or a rich history, the remarkable Castle of San Leo is the perfect destination.
🌦 Wetterinformationen
Erhalten Sie Wetterinformationen und vieles mehr von der App. Laden Sie es kostenlos herunter!
🚕 Wie man dorthin kommt?
Rufen Sie Routeninformationen (mit dem Auto, zu Fuß, mit öffentlichen Verkehrsmitteln usw.) und vieles mehr über die App ab. Laden Sie es kostenlos herunter!