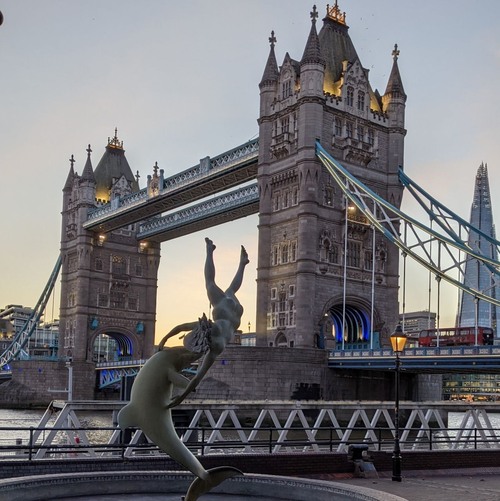 Tower Bridge is a popular London landmark, found in Greater London, United Kingdom. It consists of two towers, connected by two high-level walkways and two bascules, a type of drawbridge. It was the first bascule bridge ever to be constructed, and the only surviving example of this type of bridge in London.

It has been an iconic part of London since it opened in 1894, and it is iconic for its combination of Neo-Gothic and Victorian styles of architecture. It has become an essential part of the cityscape, and a beloved tourist destination, with around 2 million visitors in 2019 alone. It also provides a vital crossing of the Thames - in the eastern part of London especially the bridge is used to access local businesses, historic monuments and the financial district. It is a great place to take photos, as the bridge is beautiful both day and night, and there are a number of different angles one can shoot from, both on the bridge and along the riverbank. There are also some fantastic views of the City of London from the bridge. If you want to take photographs while on the bridge, there are two free access points: on the north side of the bridge, and at the east end of the bridge. When crossing, you are given 5 minutes to take photographs for free. For a more comprehensive view, you can also book a tour in the Tower Bridge Exhibition, including the bridge's walkways, with great panoramic views.
🌦 Wetterinformationen
Erhalten Sie Wetterinformationen und vieles mehr von der App. Laden Sie es kostenlos herunter!
🚕 Wie man dorthin kommt?
Rufen Sie Routeninformationen (mit dem Auto, zu Fuß, mit öffentlichen Verkehrsmitteln usw.) und vieles mehr über die App ab. Laden Sie es kostenlos herunter!