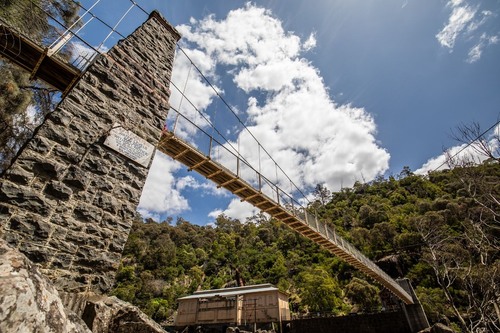 Suspension Bridge to Duck Reach Power Station is located in Trevallyn, Australia and is part of the Tamar River Estuary system. The suspension bridge spans 180m and gives travelers and photographers an incredible view of the Tamar River and its estuarine environment. Its tall steel risers ensure that visitors can appreciate the bridge from many different angles, and closely observe the array of native wildlife along the riverbanks. The bridge leads visitors to the historic Duck Reach Power Station, built in 1887, which provides a unique insight into the industrial past of the area. It is a great spot to relax just off the banks of the Tamar and explore the surrounding forests and pastures, as well as take in excellent views of the estuary and nearby Mount Barrow.
🌦 Wetterinformationen
Erhalten Sie Wetterinformationen und vieles mehr von der App. Laden Sie es kostenlos herunter!
🚕 Wie man dorthin kommt?
Rufen Sie Routeninformationen (mit dem Auto, zu Fuß, mit öffentlichen Verkehrsmitteln usw.) und vieles mehr über die App ab. Laden Sie es kostenlos herunter!