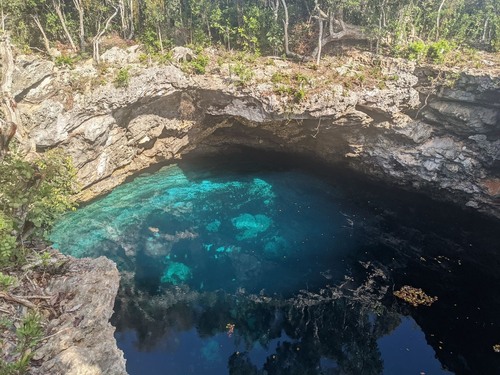 The vivid sapphire hue of the Blue Hole and its jagged coral cliffs is a sight to behold in The Bluff Settlement, Bahamas. Located in the small yet historically significant area, The Bluff Settlement is home to a sinkhole of awe-inspiring beauty. Its crystal clear, turquoise waters are filled with an array of vibrant marine life, providing endless opportunities for ocean exploration and exciting encounters. Surrounding the blues is a unique set of pale yellow limestone cliffs that serve to frame the dazzling scene. With a little bit of luck, one may even come across a few brave divers plunging into the depths of the Blue Hole. The view from the cliffs is simply spectacular, and the Caribbean Sea's azure horizon can be seen in its full glory. A visit to this natural wonder is one that will never be forgotten.
🌦 Wetterinformationen
Erhalten Sie Wetterinformationen und vieles mehr von der App. Laden Sie es kostenlos herunter!
🚕 Wie man dorthin kommt?
Rufen Sie Routeninformationen (mit dem Auto, zu Fuß, mit öffentlichen Verkehrsmitteln usw.) und vieles mehr über die App ab. Laden Sie es kostenlos herunter!