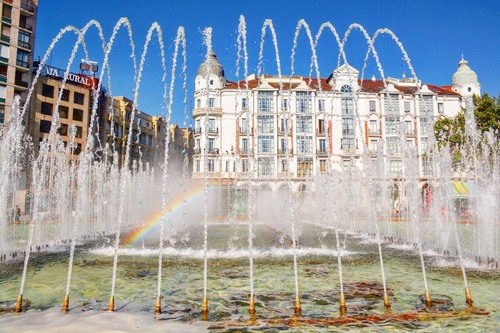 Plaza de Zorrilla is a beautiful public square located in the heart of Valladolid, Spain. It is named after the famous 19th-Century Spanish poet and playwright, José Zorrilla. This plaza has a long history and it has played a key role in many of Spain's most important events. Today, it is home to a monument honoring Valladolid's tragic involvement in the Spanish Civil War, as well as a museum dedicated to Zorrilla himself. The plaza itself is a vast open area with plenty of seating, surrounded by some of Valladolid's most iconic buildings. These include the Caja de Castilla La Mancha bank building, the Municipal consistory of Valladolid and the José Zorrilla Museum. The plaza also has a unique collection of trees, which make it the perfect spot for a pleasant afternoon stroll. Stop by for some sun-soaked relaxation when you're in town.
🌦 Wetterinformationen
Erhalten Sie Wetterinformationen und vieles mehr von der App. Laden Sie es kostenlos herunter!
🚕 Wie man dorthin kommt?
Rufen Sie Routeninformationen (mit dem Auto, zu Fuß, mit öffentlichen Verkehrsmitteln usw.) und vieles mehr über die App ab. Laden Sie es kostenlos herunter!