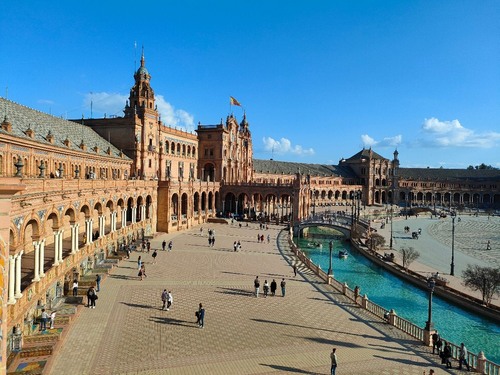 Plaza de España in Sevilla, Spain, is one of the largest and most beautiful squares in the city and one of the most iconic attractions. Constructed in 1928 for the Ibero-American Exposition of 1929, the brick and tile-studded plaza can easily be recognized by its semicircular structure. The main architectural elements of the Plaza include two enormous semi-circular brick buildings, a picturesque central tower and an amazingly detailed canal that decorates the entire plaza. The semi-circular walls, known as the Almohades, have a height of around 50 feet, and feature a rich variety of colorful tiles, benches, sculpture and water fountains, all of which represent the four major provinces of Spain—Andalusia, Castile, Granada and Valencia. To sit, relax and admire the mixture of art and beauty of Plaza de España is to take a journey back in time. It is definitely worth visiting this iconic Spanish landmark.
🌦 Wetterinformationen
Erhalten Sie Wetterinformationen und vieles mehr von der App. Laden Sie es kostenlos herunter!
🚕 Wie man dorthin kommt?
Rufen Sie Routeninformationen (mit dem Auto, zu Fuß, mit öffentlichen Verkehrsmitteln usw.) und vieles mehr über die App ab. Laden Sie es kostenlos herunter!