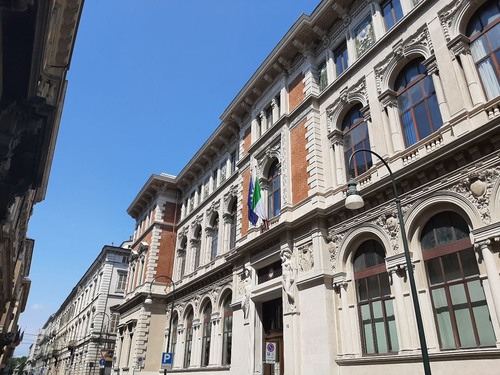 The Palazzo delle Poste in Torino, Italy, is an Art Nouveau building built at the start of the 20th century. It is situated on the old via S. Sebastiano and is both impressive and historic. The exterior features an eclectic mix of brick and stone, while the beautiful white stucco details add a classic Italian touch. The grand circular Plaza Dante, with its fountain and grand statue of a winged horse, is just opposite the Palazzo. Inside you can admire the majestic spiral staircases that climb up the building's five floors. It is a beautiful sight to behold and a great example of Art Nouveau architecture in Torino. The Palazzo is also home to several small businesses and an information desk where tourists can get help with local attractions, transport and accommodation. The Palazzo is a great place to take a break, take a few pictures and enjoy some of Italy's cultural history.
🌦 Wetterinformationen
Erhalten Sie Wetterinformationen und vieles mehr von der App. Laden Sie es kostenlos herunter!
🚕 Wie man dorthin kommt?
Rufen Sie Routeninformationen (mit dem Auto, zu Fuß, mit öffentlichen Verkehrsmitteln usw.) und vieles mehr über die App ab. Laden Sie es kostenlos herunter!