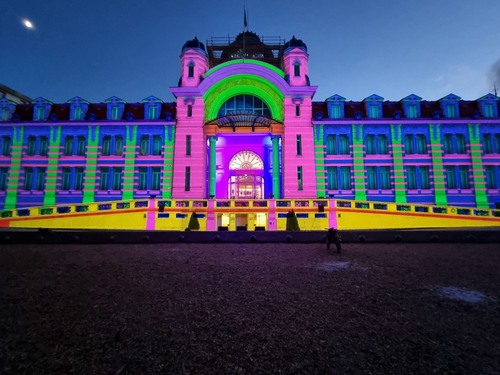 Palais Lumière is an impressive 19th century Belle Epoque palace situated on a terraced hilltop in Évian-les-Bains, France. This majestic building was built in 1844 by Francois-Albert d'Evian, who wanted to turn the town into a preferred tourist destination. The entire complex is designed to resemble an Italian villa, with a central building flanked by several outbuildings, each with its own unique style. The impressive façade features a large terrace with iron railings and corner turrets, with the lavish interior comprising of two impressive lounges, two stately dining rooms and several other beautiful rooms. Visitors can marvel at the grand golden ceiling in the music room, painted green hallways and incredible wall paintings. The palace grounds feature an extensive collection of exotic plants and lush gardens, as well as a stunning view of the lake and the Alps from its terrace. Today, the palace is open to the public, allowing visitors to admire its beauty and admire the incredible landscapes.
🌦 Wetterinformationen
Erhalten Sie Wetterinformationen und vieles mehr von der App. Laden Sie es kostenlos herunter!
🚕 Wie man dorthin kommt?
Rufen Sie Routeninformationen (mit dem Auto, zu Fuß, mit öffentlichen Verkehrsmitteln usw.) und vieles mehr über die App ab. Laden Sie es kostenlos herunter!