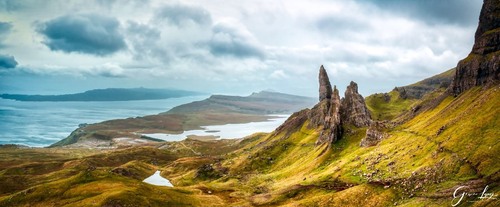 Old Man of Storr is a stunning isolated peak situated in the heart of the Isle of Skye, Scotland. It towers over 800 ft in a series of rocky pinnacles and columns. This rocky landform rises above a surrounding area of ancient woodland and majestic lochs and is one of the most photographed natural sites in the UK. It is believed the area was part of an ancient eruption of the extinct volcano, the Rannoch volcanic center. An impressive natural feature, Old Man of Storr has been a popular place to explore and enjoy nature since the 19th century. It is relatively easy to access, with a car park a few hundred metres from the feature and easy walking trails from there to the base of the "Old Man". You can also take a circuitous walk to the top where you can marvel at the spectacular views.
🌦 Wetterinformationen
Erhalten Sie Wetterinformationen und vieles mehr von der App. Laden Sie es kostenlos herunter!
🚕 Wie man dorthin kommt?
Rufen Sie Routeninformationen (mit dem Auto, zu Fuß, mit öffentlichen Verkehrsmitteln usw.) und vieles mehr über die App ab. Laden Sie es kostenlos herunter!