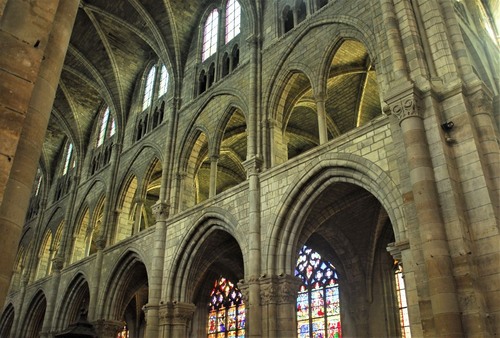 Notre Dame en Vaux is a beautiful Romanesque church in Châlons-en-Champagne, France. Built in the 11th century, the church was restored from its ruined state in the 19th century and is now an exemplary example of Romanesque architecture. It features a vaulted gallery around the nave, an impressive apse, and intricate carvings on the exterior walls. The interior of Notre Dame en Vaux features impressive aisles with beautiful pillars, ribbed vaults, and a sanctuary held up by four large columns. The church also has its own museum, where ancient Holy Oils and a majestic Renaissance style organ are on display. The church is also well known for its unique paintings that are still intact today, having been discovered during renovations in the 19th century. Visitors can take stunning pictures of the stunning exterior and interior of the church, its remarkable paintings and other architectural features.
🌦 Wetterinformationen
Erhalten Sie Wetterinformationen und vieles mehr von der App. Laden Sie es kostenlos herunter!
🚕 Wie man dorthin kommt?
Rufen Sie Routeninformationen (mit dem Auto, zu Fuß, mit öffentlichen Verkehrsmitteln usw.) und vieles mehr über die App ab. Laden Sie es kostenlos herunter!