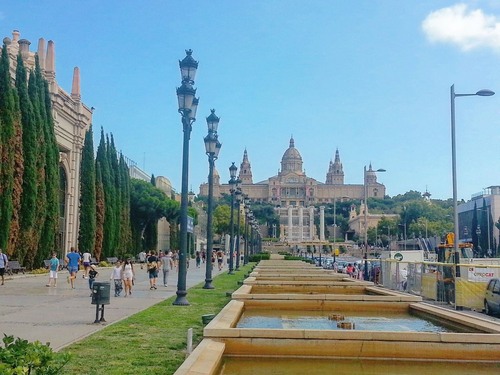 The Montjuïc National Palace is a major landmark of Barcelona, located along the city's Montjuïc hill. Built in 1929 for the International Exposition of Barcelona, the palace is one of a few surviving exponational buildings in Spain. Its stunning interior and exterior architecture is a reminder of its prestigious past. The palace is best known for its festive fountains, reflecting pools, and vast gardens, which offer spectacular views over Barcelona. Visitors can also enjoy works of art by Gaudi, Miró, and other Catalan artists, as well as state-of-the-art audio and video systems. The palace remains a remarkable example of Catalan and Spanish culture, arts and achievements.
🌦 Wetterinformationen
Erhalten Sie Wetterinformationen und vieles mehr von der App. Laden Sie es kostenlos herunter!
🚕 Wie man dorthin kommt?
Rufen Sie Routeninformationen (mit dem Auto, zu Fuß, mit öffentlichen Verkehrsmitteln usw.) und vieles mehr über die App ab. Laden Sie es kostenlos herunter!