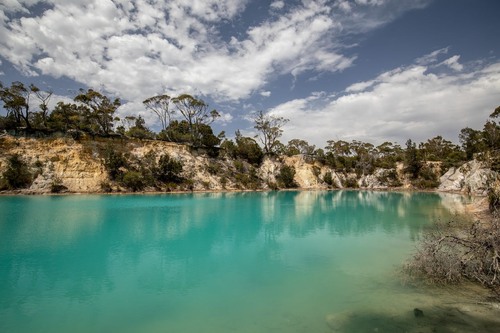 Little Blue Lake is a stunning natural beauty spot located in South Mount Cameron, Australia. It consists of a number of little lakes, interlinked by a network of small creek beds. The area is very tranquil and peaceful, surrounded by beautiful eucalyptus forests and a diverse array of wildflowers and other flora. The lake and its banks are popular among bushwalkers, who can explore along the trails and enjoy the breathtaking views across the lake's bright blue waters. Little Blue Lake is also a great spot for wildlife spotting, and visitors may get the chance to glimpse birds, wallabies, kangaroos, and more. Anyone looking for a peaceful nature escape will certainly enjoy a visit here.
🌦 Wetterinformationen
Erhalten Sie Wetterinformationen und vieles mehr von der App. Laden Sie es kostenlos herunter!
🚕 Wie man dorthin kommt?
Rufen Sie Routeninformationen (mit dem Auto, zu Fuß, mit öffentlichen Verkehrsmitteln usw.) und vieles mehr über die App ab. Laden Sie es kostenlos herunter!