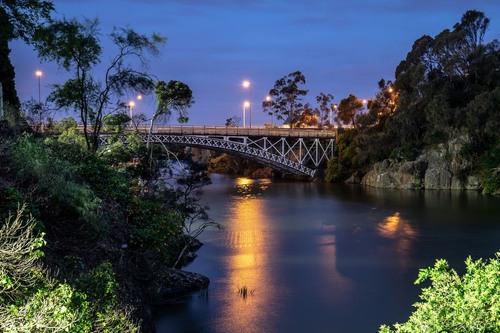 King's Bridge is located in Trevallyn, Australia. This historic bridge was constructed in the 19th century and is an iconic landmark of the area. Many tourists come here to marvel at its rustic beauty and enjoy the stunning views of the Tamar River. At the same time, it has also been a favored spot for photographers who are looking for a unique experience. Visitors to this bridge can enjoy the surrounding views, take walks along the river, or go fishing. There are also several nearby parks and gardens that are worth visiting. All in all, King's Bridge is a lovely place to visit and explore, no matter what time of year it is.
🌦 Wetterinformationen
Erhalten Sie Wetterinformationen und vieles mehr von der App. Laden Sie es kostenlos herunter!
🚕 Wie man dorthin kommt?
Rufen Sie Routeninformationen (mit dem Auto, zu Fuß, mit öffentlichen Verkehrsmitteln usw.) und vieles mehr über die App ab. Laden Sie es kostenlos herunter!