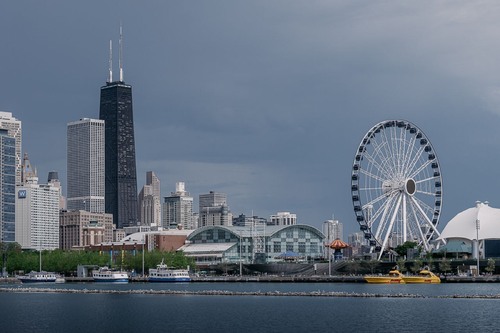 The John Hancock Building and the Navy Pier Ferris Wheel are both popular attractions for visitors to Chicago, United States. The John Hancock Building is a 100-story skyscraper in downtown Chicago, which offers stunning views of the city from its observation deck. The Navy Pier Ferris Wheel is a 15-story-high observation wheel located on the East End of Navy Pier and offers glimpses of the beautiful Lake Michigan, the Chicago skyline and the Navy Pier Park. These attractions offer a great opportunity for travelers and photographers, who can capture the beauty of the city and its lakefront. Be sure to bring your camera and get ready to be dazzled by the sights of Chicago at these two attractions!
🌦 Wetterinformationen
Erhalten Sie Wetterinformationen und vieles mehr von der App. Laden Sie es kostenlos herunter!
🚕 Wie man dorthin kommt?
Rufen Sie Routeninformationen (mit dem Auto, zu Fuß, mit öffentlichen Verkehrsmitteln usw.) und vieles mehr über die App ab. Laden Sie es kostenlos herunter!