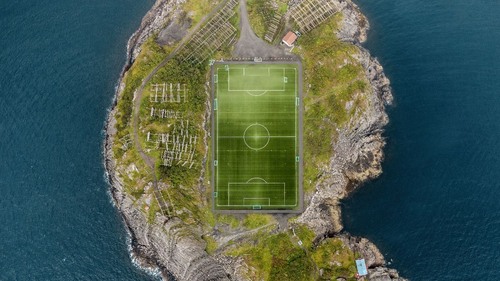 TOP
Henningsvær Football Field, located in the small fishing village of Vågan, Norway is an unexpected gem. From here, visitors can take in stunning views of the village, nearby islands and Lofoten's iconic snow-capped mountains, with the backdrop of the Arctic Sea. It's worth taking the time to explore the quaint village itself, with it's traditional red fisherman's cabins and narrow winding streets. It's a photographer's paradise, but visitors are warned to be aware of the majesty of the hills as they can suddenly catch you by surprise. A great spot to watch the beautiful sunsets, the football field is one of the largest outdoor areas in Henningsvær and can be reached after a pleasant stroll through the village. What's more, you can explore the unique terrain while keeping an eye out for local wildlife, such as the Arctic Fox, Sea Eagles and the Muskox.
🌦 Wetterinformationen
Erhalten Sie Wetterinformationen und vieles mehr von der App. Laden Sie es kostenlos herunter!
🚕 Wie man dorthin kommt?
Rufen Sie Routeninformationen (mit dem Auto, zu Fuß, mit öffentlichen Verkehrsmitteln usw.) und vieles mehr über die App ab. Laden Sie es kostenlos herunter!