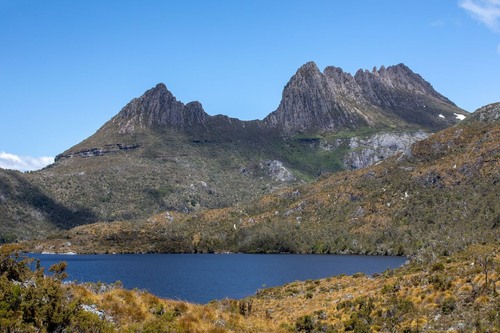 Cradle Mountain and Lake Lila, in Cradle Mountain, Tasmania, are one of Australia's most iconic and beautiful landscapes. Located in the Cradle Mountain-Lake St Clair National Park, the area is one of the best places in Australia for bushwalking and sightseeing. Home to dramatic alpine peaks, winding rivers, rainforest gullies and ancient wilderness, Cradle Mountain is a must-see destination. The park is also home to a number of interesting wildlife species, making it a great place for nature lovers. There is an extensive network of bushwalking trails which will take you through the stunning scenery, and camping is also available for those looking for a more relaxing experience. When exploring, make sure to take in the impressive views of Dove Lake, as well as the stunning views of Cradle Valley and the summit of Cradle Mountain. From the summit, visitors can also see a number of beautiful wildflowers, heathers and buttongrass plains. Whether you are an avid bushwalker or a nature lover, a visit to the stunning Cradle Mountain-Lake St Clair National Park is sure to be an unforgettable experience.
🌦 Wetterinformationen
Erhalten Sie Wetterinformationen und vieles mehr von der App. Laden Sie es kostenlos herunter!
🚕 Wie man dorthin kommt?
Rufen Sie Routeninformationen (mit dem Auto, zu Fuß, mit öffentlichen Verkehrsmitteln usw.) und vieles mehr über die App ab. Laden Sie es kostenlos herunter!