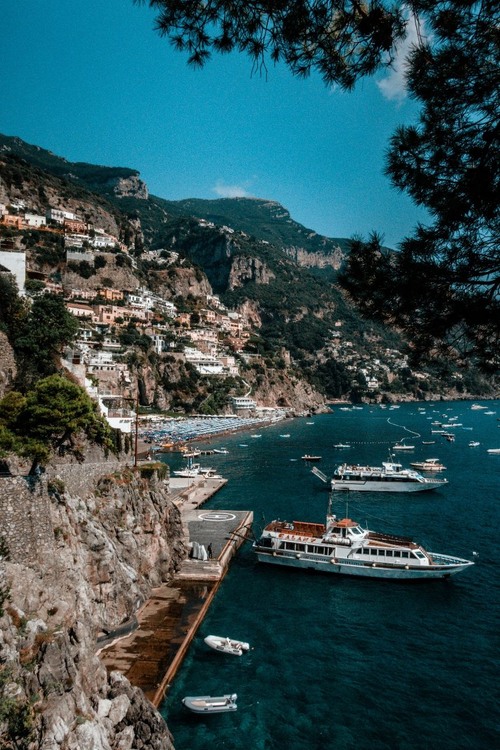 The beautiful village of Positano in the southern Italian area of Costiera Amalfitana is a popular destination for travelers and photographers. Located in the province of Salerno, the town is characterized by a unique combination of colorful houses, quaint streets, and extraordinary coastal views of the Mediterranean. The colorful winding streets of Positano are lined with chic boutiques, eateries, and some 17 centuries of captivating folklore and history to explore.

Among the must-sees for photographers in Positano is Torre Trasita, the remains of the ancient tower built to watch over the coast. Located at the beginning of the Pigri path, it is a tranquil spot from which to capture a spectacular panoramic of the city's coast. Moreover, the romantic atmosphere of the area, made of sea and sunlight, will give unforgettable shots. Enjoy the town by trying some of the area's most exquisite flavors; the local restaurants will offer wood-fired pizzas and some of the freshest seafood dishes that you will ever taste. If you want to get a taste of some Italian culture, an easy-to-follow footpath from Positano also leads to the beautiful 13th century church of Santa Maria Assunta, an architectural gem.
🌦 Wetterinformationen
Erhalten Sie Wetterinformationen und vieles mehr von der App. Laden Sie es kostenlos herunter!
🚕 Wie man dorthin kommt?
Rufen Sie Routeninformationen (mit dem Auto, zu Fuß, mit öffentlichen Verkehrsmitteln usw.) und vieles mehr über die App ab. Laden Sie es kostenlos herunter!