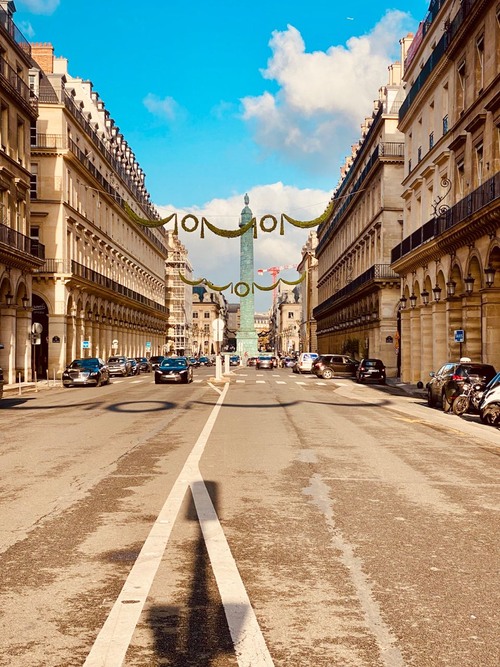 Colonne Vendôme and the adjacent Rue de Castiglione form an elegant pair of streets in the heart of Paris, France. The single-block stretch of Colonne Vendôme encloses a glorious archway, while its neighbor Rue de Castiglione houses a plethora of luxury design boutiques. Both narrow streets offer up a calming respite from the hustle and bustle of one of the largest cities in the world.

The impressive colonnade, located in Colonne Vendôme, is a spectacular sight standing up to 40m in height. The monument was designed to honour the victory of Napoleon in the war of 1805, with his statue at the top surveying the crowds below. It is surrounded by French Neo-CLASSICAL architecture, creating a feeling of grandeur and perfect symmetry. Meanwhile, Rue de Castiglione is home to exquisite clothing stores and cafes, in a magnet for affluent Parisians. From Cartier to La Maison de la Truffe, these boutiques display the very best in fashion and lifestyle. The occasional entrance of a horse-drawn carriage is a reminder of the area's more humble, mews-like past. Discover these two refined streets to be part of the glamorous side of Paris and spend a tranquil afternoon strolling in harmony with the towering colonnades.
🌦 Wetterinformationen
Erhalten Sie Wetterinformationen und vieles mehr von der App. Laden Sie es kostenlos herunter!
🚕 Wie man dorthin kommt?
Rufen Sie Routeninformationen (mit dem Auto, zu Fuß, mit öffentlichen Verkehrsmitteln usw.) und vieles mehr über die App ab. Laden Sie es kostenlos herunter!