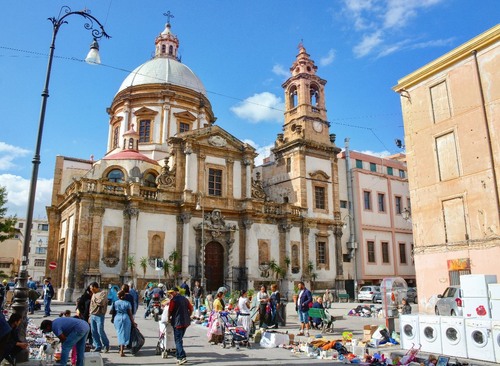 Chiesa di San Francesco Saverio is an ornate 18th-century church located in the historic center of Palermo, Italy. It was built in honor of Saint Francis Xavier, by Order of Jesuits. The main entrance of this Baroque-style church is decorated with bronze doors and an impressive tympanum depicting a double-headed eagle. Inside, there are neoclassical and Baroque altars along with stunning baroque frescoes, marble and gilt. The church also has a collection of antique statues and relics. The church also contains a wooden coffin in which lies the remains of Saint Francis Xavier. From here, visitors can get stunning views of the entire city. This remarkable piece of 18th-century architecture is a must-see when visiting Palermo.
🌦 Wetterinformationen
Erhalten Sie Wetterinformationen und vieles mehr von der App. Laden Sie es kostenlos herunter!
🚕 Wie man dorthin kommt?
Rufen Sie Routeninformationen (mit dem Auto, zu Fuß, mit öffentlichen Verkehrsmitteln usw.) und vieles mehr über die App ab. Laden Sie es kostenlos herunter!