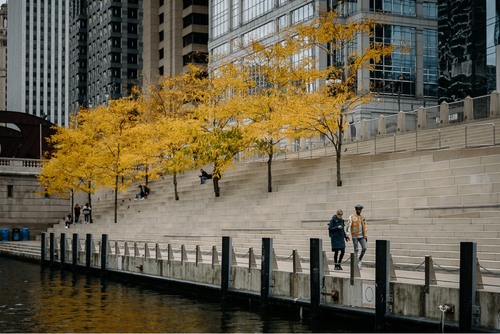 TOP
Chicago Riverwalk is a 1.25 mile path in downtown Chicago, following the winding Chicago River. It provides a riverfront promenade for pedestrians, cyclists and boaters, with plenty of amenities for an all-day outing. The path is lined with lush landscaping, public art, and spots for outdoor seating. Visitors can shop, cafe-hop and access the city's spectacular skyline from this waterfront strip. Those looking for souvenirs should check out the unique boutiques set alongside the stretch. There's also plenty of food, entertainment and recreational activities available for all ages. Be sure to stop by the historic Riverside Plaza, which will transport you back in time to 1930s Chicago.
🌦 Wetterinformationen
Erhalten Sie Wetterinformationen und vieles mehr von der App. Laden Sie es kostenlos herunter!
🚕 Wie man dorthin kommt?
Rufen Sie Routeninformationen (mit dem Auto, zu Fuß, mit öffentlichen Verkehrsmitteln usw.) und vieles mehr über die App ab. Laden Sie es kostenlos herunter!