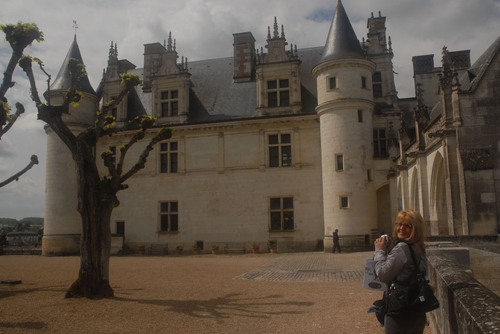 Château Royal d'Amboise (Royal Castle of Amboise) is situated upon a hill overlooking the scenic Loire Valley in Amboise, France. This 15th century castle was originally built for Louis XI and became a favored residence of subsequent French kings. Famous for its magnificent architecture, the castle is noted for the magnificent spiral staircase within its towers, as well as for the royal tombs of Charles VIII and his wife Anne de Bretagne, both of which have been preserved in excellent condition.A visit to the castle will take you back through time to the Renaissance, with its stunning views of the Loire Valley, and its many examples of grand architecture, including the Grand Kitchen, the Keep and the Clock Tower. Besides the castle, the grounds of The Château Royal d'Amboise are also home to a large number of churches and chapels, as well as a variety of other interesting sites, including a large Ducal Palace, a botanic garden and a number of fine statues. Whether visiting the castle or simply strolling through the grounds, a trip to Château Royal d'Amboise is sure to be a memorable experience.
🌦 Wetterinformationen
Erhalten Sie Wetterinformationen und vieles mehr von der App. Laden Sie es kostenlos herunter!
🚕 Wie man dorthin kommt?
Rufen Sie Routeninformationen (mit dem Auto, zu Fuß, mit öffentlichen Verkehrsmitteln usw.) und vieles mehr über die App ab. Laden Sie es kostenlos herunter!