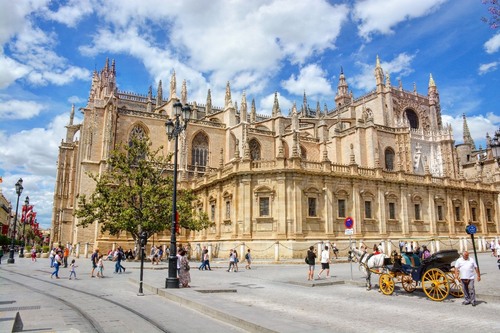 Catedral de Sevilla, located in the heart of the lively city of Sevilla, Spain, is one of the most stunning and significant buildings not only in Spain but in the entire world. It is an impressive Gothic-style cathedral, grandiose and unique in its intricate design and gigantic size. Inside, you can admire the lavish altarpiece and its many beautiful chapels. Head up to the top of Giralda Tower to take in the breathtaking views of Sevilla. The Lonja Garden, right next to the cathedral, provides a charming and tranquil atmosphere, with lush greenery and perfumed flowers. It is the perfect place to spend a leisurely afternoon, with its paths lined by Sevilla's iconic orange trees. Whether you appreciate the beauty of architecture or the lure of nature, these two sites offer something special and are not to be missed while in Sevilla.
🌦 Wetterinformationen
Erhalten Sie Wetterinformationen und vieles mehr von der App. Laden Sie es kostenlos herunter!
🚕 Wie man dorthin kommt?
Rufen Sie Routeninformationen (mit dem Auto, zu Fuß, mit öffentlichen Verkehrsmitteln usw.) und vieles mehr über die App ab. Laden Sie es kostenlos herunter!