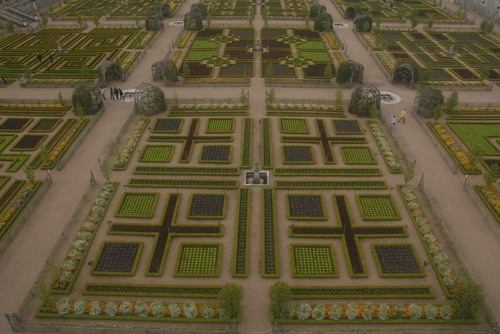 The Castle's Gardens in Villandry, France are a must-visit for anyone traveling in the Loire Valley. This beautiful sixteenth-century estate sprawls across 12ha, with three tiers of exquisitely manicured gardens, hedges, terraces and fountains that form a magnificent landscape. Visitors can marvel at the ornamental vegetable garden, the sunflower maze, the classical French garden and the spectacular cliff-top fountain, all surrounded by the Renaissance castle, which makes for a fantastic photo backdrop. Other highlights of the gardens include the magic carpet of lawns, the flowery terraces and the pond. Visitors can enjoy a picnic in the grounds, relax under the century-old linden trees, explore the many pathways and take in the breathtaking views of the surrounding countryside. To explore the gardens in full, visitors can follow the walking tour offered by the estate's museum. Here is a once-in-a-lifetime experience not to be missed.
🌦 Wetterinformationen
Erhalten Sie Wetterinformationen und vieles mehr von der App. Laden Sie es kostenlos herunter!
🚕 Wie man dorthin kommt?
Rufen Sie Routeninformationen (mit dem Auto, zu Fuß, mit öffentlichen Verkehrsmitteln usw.) und vieles mehr über die App ab. Laden Sie es kostenlos herunter!