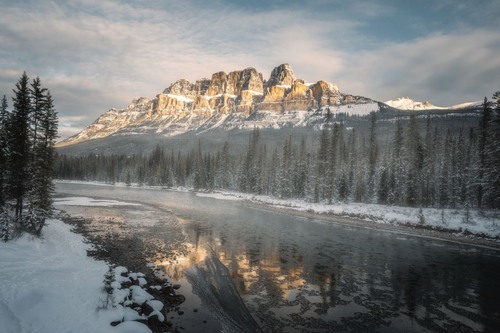 TOP
Castle Mountain is a stunning, yet remote attraction located in Castle Junction, near the entrance of Banff National Park in Canada. Here you can marvel at the jagged ridge of the mountain, formed over thousands of years of wind, rain, and snow. The mountain is a great spot for hikers, with numerous trails leading to the top of the mountain, where panoramic views await. An expansive meadow situated at the base of the mountain is a picturesque spot to take in your surroundings. Home to the only commercial heli-hiking in the Bow Valley, the mountain is a popular destination for daredevils and thrill-seekers looking for a sensation of mild adventure. On your way to the top, be sure to keep an eye out for local wildlife such as elk, deer, and mountain goats. Castle Mountain is a special place of serenity and majestic beauty and should not be missed.
🌦 Wetterinformationen
Erhalten Sie Wetterinformationen und vieles mehr von der App. Laden Sie es kostenlos herunter!
🚕 Wie man dorthin kommt?
Rufen Sie Routeninformationen (mit dem Auto, zu Fuß, mit öffentlichen Verkehrsmitteln usw.) und vieles mehr über die App ab. Laden Sie es kostenlos herunter!