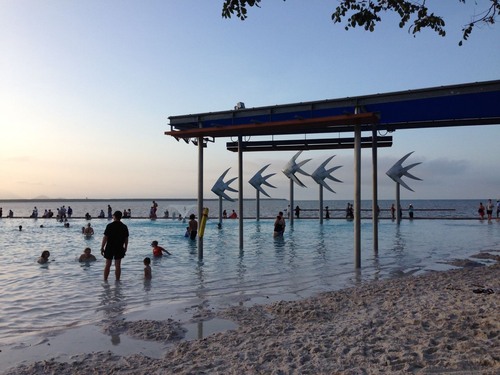 Located in the north of Australia in Cairns City, Cairns Esplanade Lagoon is a picturesque area of tropical gardens and a large recreation area for locals and visitors. This turquoise blue lagoon provides plenty of opportunities for sunbathing, swimming, BBQs, picnicking, and even snorkeling. The sandy beach and gentle lagoon makes it an ideal place to take a dip or just wade in the cool water. You can also explore the surrounding park areas and take in the vibrant colours of local flora and fauna amongst the heady tropical atmosphere. For those who enjoy walking, there are trails that wind through the lush forest, or you can admire the views across the water. The lagoon is also popular for water sports such as kayaking, stand-up paddleboarding, and even sailing. With plenty of space and wildlife around, it's a great place to take a break, relax, and enjoy the natural surroundings.
🌦 Wetterinformationen
Erhalten Sie Wetterinformationen und vieles mehr von der App. Laden Sie es kostenlos herunter!
🚕 Wie man dorthin kommt?
Rufen Sie Routeninformationen (mit dem Auto, zu Fuß, mit öffentlichen Verkehrsmitteln usw.) und vieles mehr über die App ab. Laden Sie es kostenlos herunter!