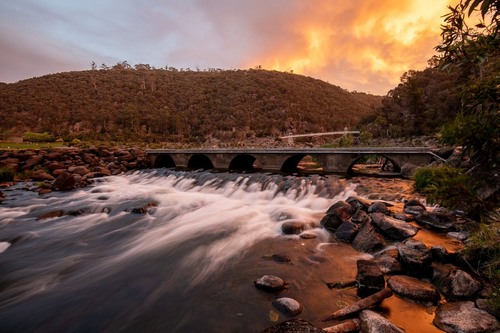 TOP
The Bridges of Cataract Gorge Reserve in Trevallyn, Australia, is a naturally forged beauty of engineering spanning two sides of the Cataract Gorge. This site is one of the ultimate landscape photography locations in Tasmania and a hot spot for vacationers alike.

The Bridges of Cataract Gorge Reserve take its visitors to an adventure of sandstone cliffs, vivid greenery and waterfalls in between the areas of Trevallyn and West Launceston. Its suspension bridges and zig zagged path make it an exhilarating walk of discovery. The reserve also offers a variety of other attractions such as caves, Devil's Kitchen and more rocky outcrops with interesting features. Cataract Gorge Reserve also has a cafe, restaurant, a kiosk and a depot for cycle hire. It's the perfect spot for family outings, picnics and a leisurely stroll for a breath of fresh air. The walking tracks are fairly easy to navigate and offer a range of vantage points from different bridges, slick rock and pathways. Beautiful flora and fauna make up the wildlife with wallabies and possums, as well as bee eaters, black currawongs, kookaburra, brown goshawk and many others. There's also the rare white goshawk, a permanent resident of the reserve. Visitors can explore the Cataract Gorge Reserve by foot at any time or catch the Tamar River Cruise from Riverside or Cataract on the Gorge Cruise from Seaport.
🌦 Wetterinformationen
Erhalten Sie Wetterinformationen und vieles mehr von der App. Laden Sie es kostenlos herunter!
🚕 Wie man dorthin kommt?
Rufen Sie Routeninformationen (mit dem Auto, zu Fuß, mit öffentlichen Verkehrsmitteln usw.) und vieles mehr über die App ab. Laden Sie es kostenlos herunter!