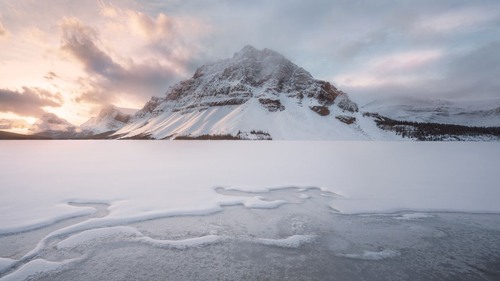 Bow Lake and Banff National Park, located in the heart of the Canadian Rockies, have been inspiring nature lovers, photographers and adventurers for generations. This area is made up of stunning mountainous scenery and a beautiful glacial lake, connected by the cascading Bow River.

From jagged and snow-capped peaks near Bow Lake, to the vivid turquoise waters of the lake itself, it's clear why Banff National Park and Bow Lake are a must-see for any visitor to Alberta. Explore the rocky outcrops at the lake and look for eagles, hawks, falcons, and other birds as you take in the unique beauty of the mighty Rockies. Take an easy stroll around the lake and then enjoy a picnic in the meadows with stunning views all around. Experience a thrilling boat tour or canoeing at Bow Lake and get up close views of the towering glaciers that surround the lake. With pristine forests, lush valleys and unique rock formations, you'll discover new experiences around every corner. The Columbia Icefield is nearby, offering hiking and incredible views that capture the grandeur of the Rocky Mountains. Banff National Park is one of the world's most breathtaking travel destinations, and an experience like no other. Whether your visit is a day trip or an extended adventure, Bow Lake and Banff National Park are not to be missed.
🌦 Wetterinformationen
Erhalten Sie Wetterinformationen und vieles mehr von der App. Laden Sie es kostenlos herunter!
🚕 Wie man dorthin kommt?
Rufen Sie Routeninformationen (mit dem Auto, zu Fuß, mit öffentlichen Verkehrsmitteln usw.) und vieles mehr über die App ab. Laden Sie es kostenlos herunter!