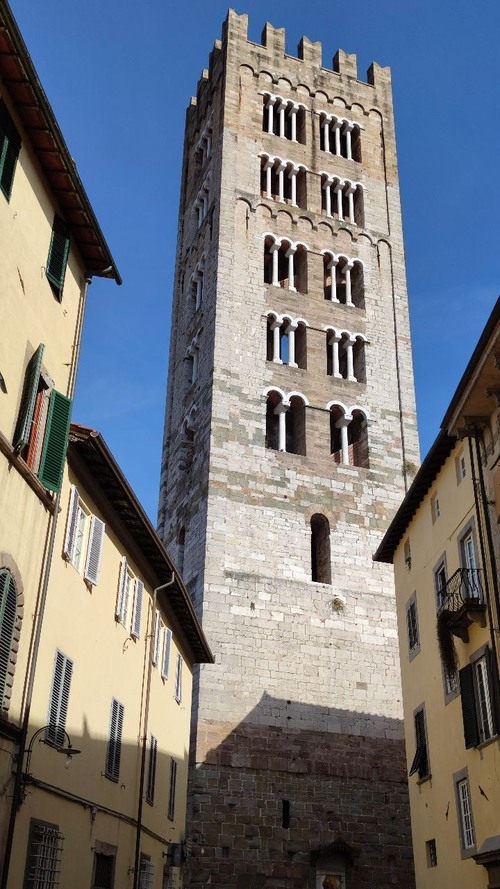 The Basilica di San Frediano is an 11th-century Romanesque Roman Catholic church located in the Tuscan city of Lucca, Italy. Built in the Roman style using white marble, the basilica has several domes and a large central tower. Inside, a few pieces of baroque decoration can be found under the arches. Remarkable for its size and beauty, the façade of the basilica showcases the intricate carvings of early 11th-century Lucca stone masons. This carvings also appear on the façade to the left, depicting religious scenes. The walls of the basilica are 55 meters long and 12 meters high, giving the building an impressive presence in the city. There is even a wildflower meadow at the back of the building, overlooking the old market. Inside, the basilica includes 12th-century marble decorative artworks, including the magnificent mosaic floor of the nave, depicting hunting scenes and other scenes drawn from daily life in the Middle Ages. There is also a baptismal font in the form a large marble shell, placed in the transept. The basilica also houses several sculptures and paintings of great beauty, adding to its historic and artistic value.
🌦 Wetterinformationen
Erhalten Sie Wetterinformationen und vieles mehr von der App. Laden Sie es kostenlos herunter!
🚕 Wie man dorthin kommt?
Rufen Sie Routeninformationen (mit dem Auto, zu Fuß, mit öffentlichen Verkehrsmitteln usw.) und vieles mehr über die App ab. Laden Sie es kostenlos herunter!