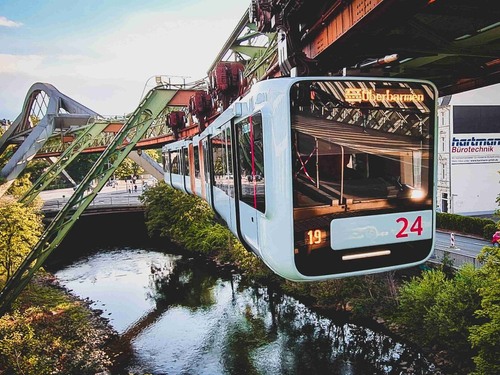 The Schwebebahn Wuppertal, located in the German city of Wuppertal, is an incredible form of public transport. Operating since 1901, the monorail is an elevated railway system whose tracks are supported by steel pillars. It offers tourists a unique way to see this beautiful city, as the railway climbs and weaves its way over the hills and through the many parks and gardens of the area. Of particular note is the Haltestelle Ohligsmühle, a stop near the town of Vohwinkel. From here, visitors can take in stunning views of the meandering Wupper River, the Elberfeld Valley, and the enchanting Ohligsmueller Park. The area is also home to some beautiful architecture from different eras, as well as some traditional German eateries and other shopping facilities.
🌦 Informació meteorològica
Obteniu informació sobre el temps i molt més des de l'aplicació. Descarrega'l gratis!
🚕 Com arribar?
Obteniu informació sobre rutes (en cotxe, caminant, transport públic, etc.) i molt més, des de l'aplicació. Descarrega'l gratis!