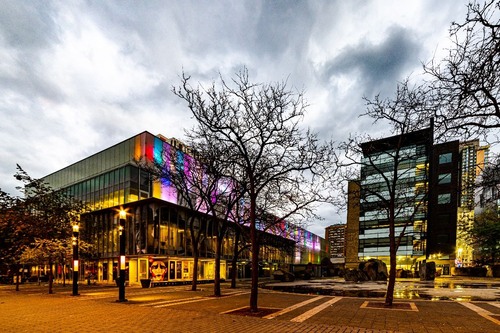 The Ryerson Image Centre, located in Toronto, Canada, is an art institution that houses world-renowned photography collections, from the 1970s onwards. Its exhibitions, seminars, and other public programming focus on promoting current critical debates in photography and related media. The centre also provides educational opportunities to explore the art and history of photography. Its collections and library hold more than 250,000 works, including those by Diane Arbus, Robert Mapplethorpe, and Edward Burtynsky. Visitors of the centre will also find public collections, a photographic lab, innovative digital resources, and a full-service digital imaging studio. It serves as a centre for research, scholarship, and critical thinking on the history, theory and practice of photography. Every day thousands of students and researchers come to the centre to use its facilities and rare collections.
🌦 Informació meteorològica
Obteniu informació sobre el temps i molt més des de l'aplicació. Descarrega'l gratis!
🚕 Com arribar?
Obteniu informació sobre rutes (en cotxe, caminant, transport públic, etc.) i molt més, des de l'aplicació. Descarrega'l gratis!