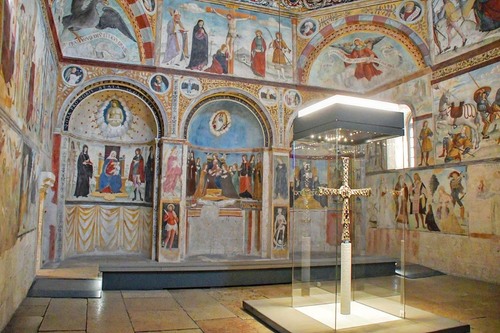 Museo di Santa Giulia is an archaeological museum located in the Italian city of Brescia. Founded in 1821, it houses a huge collection of important archaeological artifacts from the region, including stone and bronze age sculptures, ancient tombstones, and a significant number of pieces from the local Roman era. There are over 600 items in the main gallery, and an impressive number of artifacts belonging to the Longobards, Europe's first Medieval rulers. The beautifully designed exhibition provides an interesting insight into the rich history of the area. The museum also houses a selection of works by local artists and a large collection of books documenting both local and wider histories. The courtyard contains a selection of sculpture and a collection of Roman tombstones from the nearby Abbey of Santa Giulia. Photographers should take their time to appreciate the wonderful sculptures and paintings inside the museum, as well as the ancient tombs and sarcophagi. The museum is an excellent resource for those seeking to absorb the rich culture and history of Brescia.
🏨 Hostals
🌦 Informació meteorològica
Obteniu informació sobre el temps i molt més des de l'aplicació. Descarrega'l gratis!
🚕 Com arribar?
Obteniu informació sobre rutes (en cotxe, caminant, transport públic, etc.) i molt més, des de l'aplicació. Descarrega'l gratis!