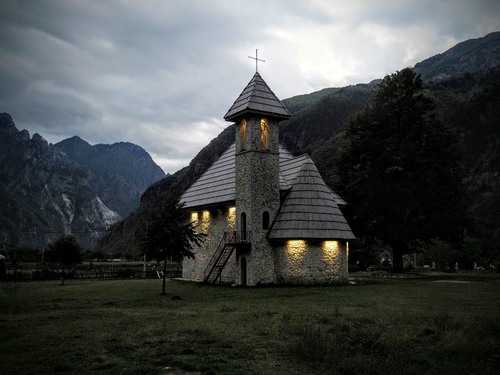 TOP
Iglesia Theth is a spectacular 18th-century church located near Fushe Thethi, in northern Albania. It was built in 1773 by a local Catholic priest and is considered to be one of the best examples of Baroque architecture in the Balkan region. The church is small and is located on a hill overlooking the beautiful valley of Theth and its three villages. Inside, you can find traditional frescoes and paintings, which are important evidence of local culture and history. The exterior façade is marked by double columns, the largest of which is supported by a horizontal beam. With its rugged mountains, lush forests and rolling meadows, this area is a popular destination for hikers and few tourists who seek off-the-beaten-track experiences.
🌦 Informació meteorològica
Obteniu informació sobre el temps i molt més des de l'aplicació. Descarrega'l gratis!
🚕 Com arribar?
Obteniu informació sobre rutes (en cotxe, caminant, transport públic, etc.) i molt més, des de l'aplicació. Descarrega'l gratis!