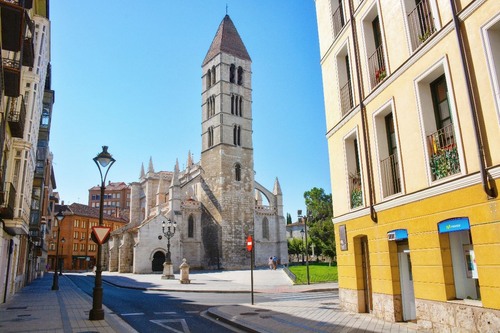 Iglesia La Antigua, located in Valladolid, Spain, is a stunningly beautiful church from the 14th century, constructed in a Gothic style. It stands next to the city walls and is easily spotted by its two crenellated towers that overlook the city. The thick sandstone walls of the church contain an ancient graveyard and canopy supported by carved stone columns. Inside the church, visitors can admire its beautiful stained glass windows, and its decorated stone ceilings. One of the most famous windows of La Antigua shows the "Ascension of Christ" in the North transept. The main altar and gallery are also worth a visit. A little chapel, Torre de los cinco sentidos, is situated in the South part of the church. Besides its religious and historical importance, this church also offers beautiful views of the city from its rooftop.
🌦 Informació meteorològica
Obteniu informació sobre el temps i molt més des de l'aplicació. Descarrega'l gratis!
🚕 Com arribar?
Obteniu informació sobre rutes (en cotxe, caminant, transport públic, etc.) i molt més, des de l'aplicació. Descarrega'l gratis!