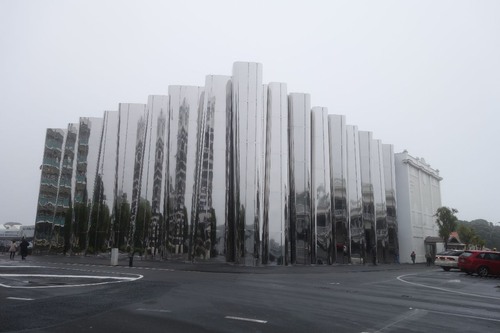 Govett-Brewster Art Gallery, in New Plymouth, New Zealand, is a world-renowned center for contemporary art and is one of the top art galleries in the South Pacific. It opened in 1970 and since then it has been home to a wide range of exhibitions featuring works by established international and New Zealand-born artists. Apart from exhibitions, the gallery also has a dedicated learning space and hosts educational and public programmes and events.

The gallery's design itself is bold and sculptural, earning it a place in the list of notable modernist New Plymouth Buildings. With its white-clad exterior and angular forms, the gallery stands out among the lush green surroundings and harbor backdrop. On the inside, its innovative light and airy interior creates a unique space that amplifies the works displayed by the gallery. Govett-Brewster is also known for its permanent collection, which currently features works by artists such as Colin McCahon, Len Lye, Bill Culbert, Michael Parekowhai, and Don Driver. This is Amsterdam's collection of works combining traditional artistry, technology and science. There is also an outdoor sculpture area and an auditorium. Visiting the Govett-Brewster Art Gallery offers much more than just a glance at some of the most notable art from the past and present. It offers an experience that is bound to be remarkable each time.
🏨 Hostals
🌦 Informació meteorològica
Obteniu informació sobre el temps i molt més des de l'aplicació. Descarrega'l gratis!
🚕 Com arribar?
Obteniu informació sobre rutes (en cotxe, caminant, transport públic, etc.) i molt més, des de l'aplicació. Descarrega'l gratis!