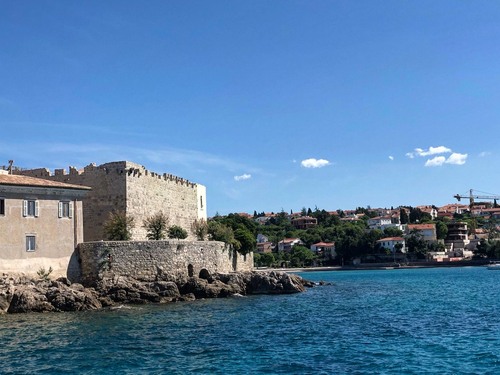 Frankopan Castle is one of the most recognisable landmark in Krk, Croatia. It is located on the island of Krk, just off the coast and is accessible both by land and sea. It stands as a reminder of the Frankopan's long rule over the region, a dynasty that guided the country to its independence. The castle has been subjected to several renovations since it was first built 800 years ago, and today it is one of the biggest attractions in Krk. The castle is home to the National Museum, making it a great start to exploring the area and its many historical sites. Its imposing walls and stunning design make it a popular place to take photos. The silhouette of the castle against the sea or the vibrant Tuscan-style houses beneath its walls make for a great background for a photo. Getting to the castle is easy and can be done by car or by cycling, with plenty of nearby parking options. Whether you are interested in getting an overview of the area's history or just appreciating its stunning views, Frankopan Castle is an unmissable destination in Krk.
🌦 Informació meteorològica
Obteniu informació sobre el temps i molt més des de l'aplicació. Descarrega'l gratis!
🚕 Com arribar?
Obteniu informació sobre rutes (en cotxe, caminant, transport públic, etc.) i molt més, des de l'aplicació. Descarrega'l gratis!