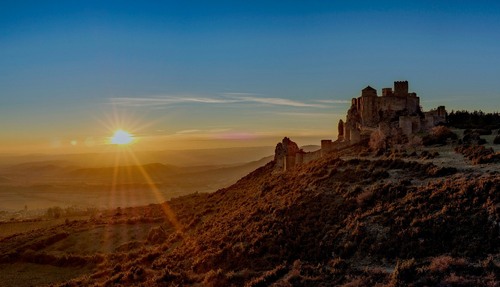 The Castillo de Loarre is a historical castle located in Loarre, Aragon (Spain). Built in the 11th century, it is one of the best-preserved Romanesque fortresses in Spain and a designated Historical Artistic Site. The castle stands atop a rocky hill, dominating both the countryside and the nearby town. It was originally a strategic stronghold that protected the kingdom, as well as a noble palace. Today, it stands as a beautiful reminder of Spain's turbulent past. Its encompassing walls and towers, interior and exterior passages and Chapel of Santa María are all wonderful sights. You can climb in some towers and admire the spectacular view, or explore the caves in the castle grounds and the archaeological site, with ancient remains from the Iron Age. Take a guided tour to experience the full historical significance. To fully enjoy the castle, you should plan for a few hours, and you don't need to pay to enter the castle grounds.
🏨 Hostals
🌦 Informació meteorològica
Obteniu informació sobre el temps i molt més des de l'aplicació. Descarrega'l gratis!
🚕 Com arribar?
Obteniu informació sobre rutes (en cotxe, caminant, transport públic, etc.) i molt més, des de l'aplicació. Descarrega'l gratis!